After Miami has had its own City Coin for a few months, New York will soon follow suit. But what exactly is a City Coin and how does it enable citizens to earn unconditional Bitcoin income?
At the end of July 2021, the Mayor of Miami, Francis Suarez, introduced the world's first City Coin in his city. MiamiCoin is based on the principle of City Coins, which in turn is based on stacks. The Stacks ecosystem is made up of independent companies, developers, and community members working to build a user-controlled internet on Bitcoin. The special thing about stacks is that it enables the use of smart contracts on Bitcoin for the first time. Learn more about stacks here.
A few months later, on November 5, the new mayor of New York City, Eric Adams, announced that he would also like to publish a city-specific cryptocurrency for his citizens. Both Miami and New York are hoping for a new source of income through the City Coins.
What is a city coin?
In essence, City Coins are cryptocurrencies that allow people all over the world to invest in a city by buying a token.
City Coins are programmable tokens that can be mined. In addition, you can stake a City Coin via the Stacks (STX) platform and receive Bitcoin and STX dividends in return. Those who participate in the mining of a city coin earn 70 percent of the newly mined tokens, while 30 percent are reserved for the wallet of the respective city. Each city can decide at its own discretion to claim the funds in this wallet.
Miami wants to use the generated income for investments in public facilities, infrastructure, urban events or the support of start-ups.
Unconditional Bitcoin Income
Francis Suarez did an interview with CoinDesk announced that he envisions that the revenue generated by City Coins could at some point relieve all of its citizens from the need to pay taxes.
In addition, he wants to give each of his citizens a wallet, which they will share in the staking income of the MiamiCoin. In plain language, this means that every citizen of Miami receives a wallet that pays out Bitcoin dividends. In addition, owners of MiamiCoins should also be able to pay with MIA in the future and receive certain discounts.
However, since the City Coin of Miami has so far hardly had any use other than staking and investors do not participate directly in the revenue of the city of Miami, the price has barely moved in recent months.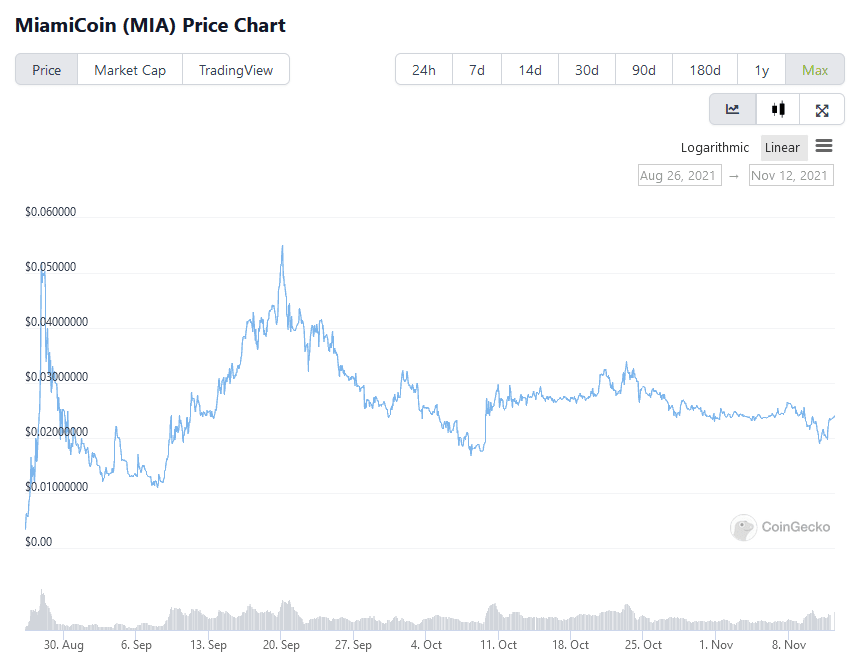 That could change in the future, however, as the community jointly decides how the tokenomics of a City Coin are composed. At press time, an MIA costs just under $ 0.024.
How much has Miami taken in?
The token rewards sent to the City of Miami wallet are currently made up entirely of STX. Whenever the city wishes, it can access its reserved STX in the wallet. In theory, the city of Miami could also use the STX tokens to stake them on stacks to get Bitcoin. Since the project started at the end of July, there has been a total of almost 10,000,000 STX (around $ 22 million) flowed to the wallet.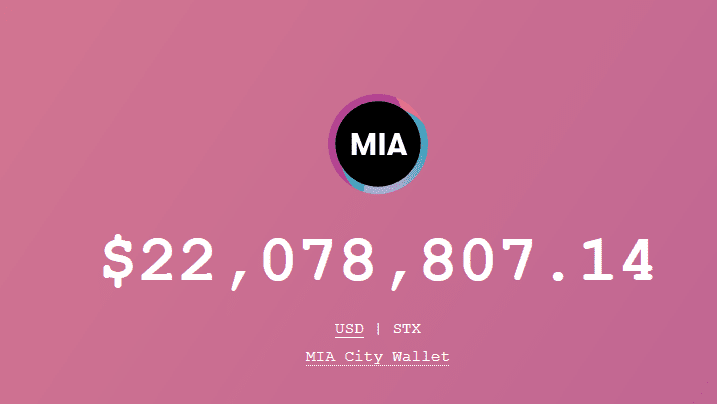 In theory, Miami can sell the tokens anytime, but the city has so far refrained from doing so. City Coins are an innovative idea that cities around the world can use to generate additional income. If they are even more popular among the population and offer their users real advantages when buying goods or services, they could develop into an attractive additional source of income for cities in the coming years.
The city of Miami has shown that city coins can generate revenue, and with New York looking to catch up, it is likely only a matter of time before more cities adopt their own cryptocurrencies.