Ethereum co-founder Joseph Lupine teased a MetaMask token (MASK) airdrop on Twitter. In addition, MetaGameHub wants to finally make DAO (MHG) non-fungible tokens (NFT) assessable.
A lot happened again this week in the Decentralized Finance (DeFi) sector. For example, there is speculation that the Web 3.0 wallet MetaMask could receive its own token.
Joseph Lubin, co-founder of Ethereum and founder of the developer platform ConsenSys, hinted in a tweet that a MetaMask (MASK) token Airdrop is imminent.
MetaMask is the largest Web 3.0 wallet in the entire crypto space and has over 10 million active users per month. With the help of MetaMask, users can interact with any Web 3.0 application.
For example, users can use MetaMask to independently interact with DeFi and NFT platforms such as Uniswap or Opensea.
Who is Qualified for the MetaMask Airdrop?
In addition, MetaMask is now one of the big players in DeFi space. In the last 30 days alone, DeFi users have spent around $ 20 million on using the decentralized exchange aggregator integrated into the wallet.
MetaMask's exchange aggregator scans various decentralized exchanges and determines the most cost-effective token swap conditions for its users.
Almost 0.875 percent of the fees that are executed via the exchange aggregator of the Web 3.0 wallet are currently flowing to the MetaMask team.
Should there actually be an airdrop, it is unclear who exactly is qualified for it. But users of the exchange aggregator's swap function are likely to be potential airdrop contenders.
Polkadot launches parachain auctions – investors queue up
Polkadot, the eight largest cryptocurrency by market capitalization, started its first Parachain auction on November 11th – you can find out what exactly that is here.
At the first auction, which will be held between November 11th and 18th, many projects have already been able to collect more than 2.5 billion US dollars in DOT tokens through crowdloans from investors.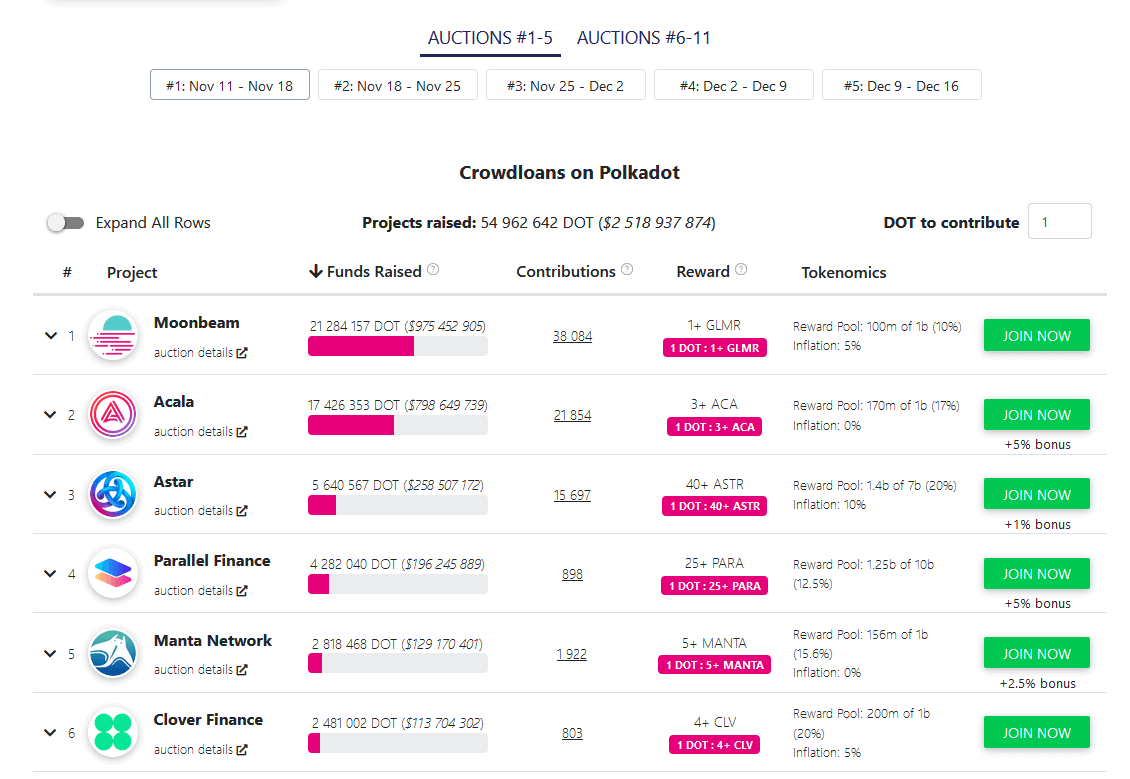 In the first round of the Pachain auctions, a total of five Parachain slots will be released. At the moment, the DeFi platform Acala Network (ACA) and the Ethereum-compatible smart contract platform Moonbeam (GLMR) are leading the parachain auctions. As things stand now, it looks like the Parachain slot from Moonbeam and Acala Network is already secured.
MetaGameHub DAO wants to make NFTs assessable
A new project with the German core founder team, MetaGameHub DAO (MGH), wants to revolutionize the non-fungible token sector and finally make NFTs assessable. With certain algorithms the real value of an NFT can be determined with certain NFT evaluation tools.
The algorithms essentially analyze thousands of NFT sales. To do this, it uses metrics such as the base price of the collection, the 7-day average sales price or traditional valuation standards from the real estate market. So the algorithm calculates a fair rate for different types of NFTs in metaverse.
One of the first tools developed by MetaverseGameHub DAO is an algorithm that makes it possible to evaluate virtual lands in the metaverse of Sandbox and Decentraland.
These price data are to be offered in the future via oracle platforms such as Chainlink (LINK) and Ocean Protocol (OCEAN), said Nicolas Weber, founder of MetaGameHub DAO, to BTC-ECHO.
Our goal is to promote transparency in the metaverse by using sophisticated algorithms that enable fair pricing mechanisms. In addition, this data can then be sold on decentralized data marketplaces such as Ocean Proticol and Chainlink.
This could be of great importance in the future, especially with the merging of Metaversen and Decentralized Finance. The price data from various non-fungible tokens that MetaverseGameHub DAO supplies to data oracles can be easily integrated into DeFi protocols and could fundamentally improve the liquidity in the DeFi space.