The current correction is severe even for Bitcoin. But there is reason to be optimistic.
Bitcoin (BTC) is still trading in unsatisfactory territory. Because the crypto currency has been oscillating between 40,000 US dollars and 32,000 US dollars since mid-May – without making any move to switch to a new upward trend as soon as possible. At the time of writing, BTC is trading at $ 36,544, down 1.6 percent from the previous day.
In the medium term, too, it looks rather sobering. A look at the monthly overview reveals that this alleged mid-cycle corrector takes an unusually long time and is unusually severe. Two red candles on a monthly view? That didn't happen in 2017.
Drops like the one in May, in which BTC lost 50 percent of its value within days, do not leave investors without a trace. Especially newcomers were flushed out of the market. As our slideshow shows, Bitcoin's volatility is nothing unusual:
Bitcoin: The 5 worst months since 2018
6 pictures

Show slideshow


RSI: Bitcoin undervalued
But there is reason for cautious optimism. And that's due to the RSI. The RSI (Relative Strength Index) is a technical indicator that can be used to reliably determine whether an asset is over- or undervalued. Typically, an RSI of> 70 is considered an overbought asset and a correction is expected. On the other hand, there are oversold assets, which can be identified using an RSI <30. At the moment, Bitcoin is still doing well at 61. However, if you compare the current RSI with past bull markets, the asset appears comparatively undervalued.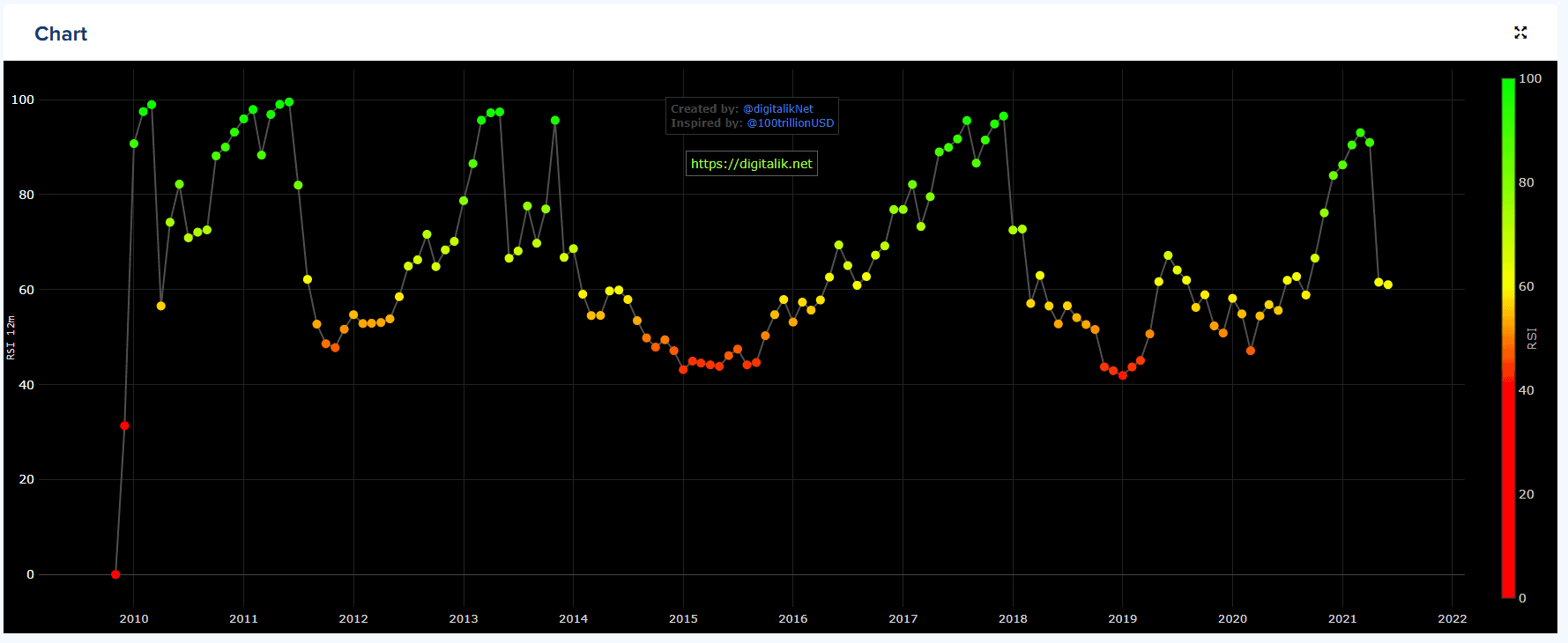 This is also the conclusion @therationalroot, an anonymous data analyst.
I definitely expect June to end with an uptrend, otherwise it would be the first time we have 3 consecutive months in a downtrend,
writes the analyst on Twitter.
Here, too, it becomes clear: The current correction is extreme, even for Bitcoin ratios. In 2017, the RSI fell to a value of 73 in the BTC correction in March. Basically, this only allows two conclusions: The bull market is over or Bitcoin is significantly undervalued and should soon make up ground again.
Permabulle PlanB also sees that the second option is closer. The originator of the controversial stock-to-flow model points out that according to its calculation, Bitcoin is still on the moon course. After all, even with such violent dips, BTC does not fall below the permissible values ​​of the model.